E-Newsletter - Summer 2017
CALGB (alliance) 10603 RATIFY Study Results Lead to FDA Approval of new combination treatment for acute myeloid leukemia
The U.S. Food and Drug Administration has approved midostaurin (Rydapt©) for the treatment of adult patients with newly diagnosed acute myeloid leukemia (AML) who have a specific genetic mutation called FLT3, in combination with chemotherapy. The drug is approved for use with a companion diagnostic, the LeukoStrat© CDx FLT3 Mutation Assay, which is used to detect the FLT3 mutation in patients with AML.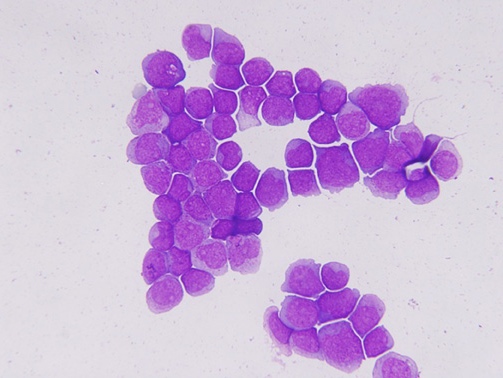 The FDA approval is based on the CALGB (Alliance) 10603 RATIFY study: A phase III randomized, double-blind study of induction (dunorubicin/cytarabine) and consolidation (high-dose cytarabine) chemotherapy + midostaurin (PKC412) (IND # 101261) or placebo in newly diagnosed patients < 60 years of age with FLT3 mutated acute myeloid leukemia (AML). The trial was conducted in collaboration with the Alliance and 13 contributing international cooperative groups.

"The overall survival advantage for midostaurin plus chemotherapy seen in the RATIFY trial was a significant advancement for newly diagnosed AML patients with the FLT3 mutation," said Richard Stone, MD, Chief of Staff and Director of the Adult Leukemia Program at Dana-Farber Cancer Institute, and Alliance Study Chair for the trial. "The availability of midostaurin now helps to establish a new standard of care in this high-risk patient population."
In the study, newly diagnosed patients with FLT3+ who received midostaurin plus chemotherapy experienced significant improvement in overall survival with a 23% reduction in the risk of death compared with chemotherapy alone (hazard ratio [HR] = 0.77, 95% confidence interval [CI], 0.63, 0.95; 2 sided p=0.016).
Event-free survival (EFS) was significantly higher for midostaurin plus chemotherapy versus chemotherapy alone (median of 8.2 months compared to 3.0 months, HR = 0.78, 95% CI 0.66, 0.93 and 2 sided p=0.004)3. The RATIFY study is the largest worldwide clinical trial in newly diagnosed FLT3-mutated AML to date, as 3,279 patients with AML were screened for the FLT3 mutation and 717 patients were enrolled. All patients with FLT3+ patients enrolled in the trial were treated regardless of whether or not cytogenetic status was normal or abnormal.
In order to identify patients with FLT3+ AML who may benefit from midostaurin, the LeukoStrat CDx FLT3 Mutation Assay, a companion molecular diagnostic test, was also developed. The assay is the first molecular companion diagnostic in AML and identifies both FLT3 internal tandem duplication (ITD) and tyrosine kinase domain (TKD) mutations.
Midostaurin is the only approved targeted therapy for newly diagnosed FLT3-mutated AML. AML is a rapidly progressing cancer that forms in the bone marrow and results in an increased number of white blood cells in the bloodstream. The National Cancer Institute estimated that approximately 19,930 people would be diagnosed with AML in 2016 and 10,430 were projected to die of the disease.
Midostaurin is a kinase inhibitor that works by blocking several enzymes that promote cell growth. If the FLT3 mutation is detected in blood or bone marrow samples using the LeukoStrat CDx FLT3 Mutation Assay, the patient may be eligible for treatment with midostaurin in combination with chemotherapy.
Midostaurin was also approved for adults with certain types of rare blood disorders (aggressive systemic mastocytosis, systemic mastocytosis with associated hematological neoplasm or mast cell leukemia).
The FDA granted the approval of midostaurin (Rydapt) to Novartis Pharmaceuticals Corporation. The FDA granted the approval of the LeukoStrat CDx FLT3 Mutation Assay to Invivoscribe Technologies Inc.

*****************
For more information, see these additional sources:
https://www.fda.gov/NewsEvents/Newsroom/PressAnnouncements/ucm555778.htm
https://clinicaltrials.gov/ct2/show/NCT00651261

Photo source: National Institutes of Health, National Cancer Institute, National Human Genome Research Institute. An histophathological image of acute myeloid leukemia.
For other articles in the Summer issue of the Alliance E-News newsletter, see below.