How to Become a Member
To become a member of the Alliance, an application for a main member and separate applications for their affiliates, if applicable, must be submitted for review by the Membership Committee and approval by the Board of Directors. A successful application will demonstrate the institution's ability to meet all membership requirements, including accrual, data quality and timeliness, adherence to Alliance policies and procedures, and participation in Alliance scientific activities.
Alliance Institutional Membership Structure
Members of the Alliance are institutions meeting all requirements for membership, which include accrual, data quality and timeliness, adherence to Alliance policies and procedures, and participation in Alliance scientific activities.
The Alliance adheres to the institution membership structure as mandated by the NCI (diagram below). As indicated in the diagram, there are four types of member networks that are structured based on their funding mechanism. The member networks can have up to 3 levels (tiers) of member types:
Tier 1 members of Lead Academic Performance Site (LAPS) and NCI Community Oncology Research Program (NCORP) represent the administrative offices of the member network. Tier 1 of the Main member networks (non-LAPS, non-NCORP) can either be an administrative office of a health system (if approved by CTSU) or an accruing institution.
Tier 2 members include affiliates of Main members, NCORP components, and LAPS Main member, LAPS affiliates, LAPS Integrated components as identified in the LAPS grant. LAPS can also have aligned affiliates. Aligned affiliates are institutions/performance sites that are affiliated with the LAPS network but are not included in the LAPS grant. The Chair's grant provides the per case payments for aligned affiliates.
Tier 3 members are sub-component/sub-affiliates. A sub-component or sub-affiliate is an institution or practice site that shares the same FWA, IRB, governance structure, employees of either a Tier I or Tier II member. An example of a sub-affiliate is a physician practice that has a primary clinical site and has additional office locations where the same physicians treat patients. The primary clinic site is the parent and the additional locations are sub-affiliates.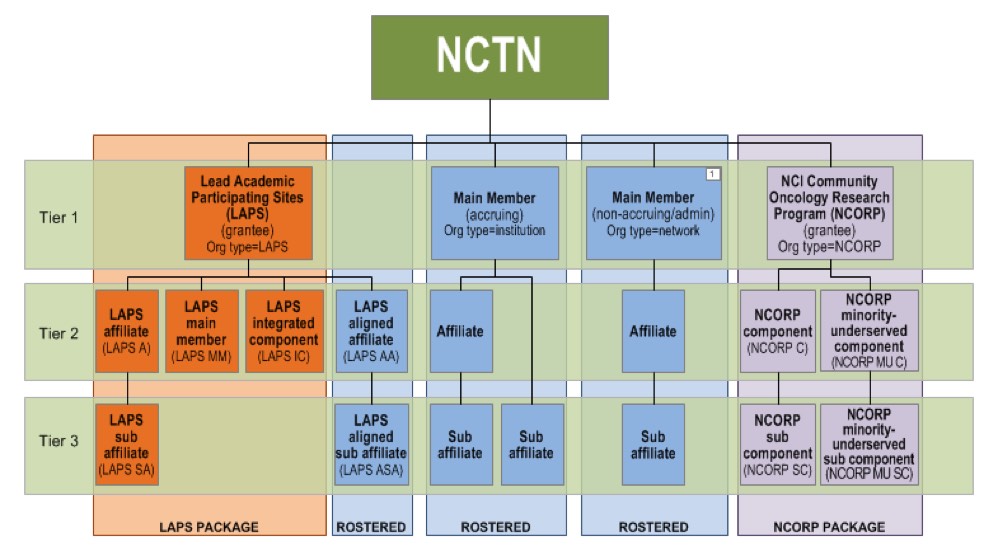 A Main member institution may have affiliate and/or sub-affiliate members or may be a stand-alone institution. Affiliate members are institutions that by themselves do not meet the requirements for membership, but are granted membership by virtue of a formal association with a Main member.
For clarification of how to determine if a site should be on the member roster, please review the following presentation: Clearing the Fog – NCI Site Codes.
Membership Accrual Requirements
LAPS and NCORP networks and Main member network (non-LAP, non-NCORP) are expected to earn at least 15 accrual credits annually based on a 3-year average. An affiliate member is expected to earn at least 5 accrual credits annually based on a 3-year average. Sub-affiliates are not held to an accrual requirement but the enrollments are counted toward the parent (Main member or affiliate) site. Accrual credits are earned by crediting the Alliance when enrolling a patient on a cooperative group clinical trial.
Institution Responsibilities
All institutions must comply with the following regulations and guidelines:
All member institution must have a Federalwide Assurance (FWA) from the Office of Human Research Protections (OHRP) and must appear on the OHRP website. Information on how to apply for an FWA can be found at: http://www.hhs.gov/ohrp/assurances/index.html
Each institution will be audited and the institution is responsible for collecting all the medical records if the patient was treated at other locations.
Each institution will be responsible for ordering and tracking investigational drugs according to the policies outlined in the National Cancer Institute Investigator's Handbook. The Investigator's Handbook is on the web at the following address: https://ctep.cancer.gov/investigatorresources/docs/InvestigatorHandbook.pdf
Member Responsibilities
Each LAPS, NCORP and Main Member network must have a Principal Investigator (PI) and a Co-Principal Investigator (Co-PI). The Co-PI will assume responsibility in place of the PI if for any reason the PI is unable to perform duties required for Alliance institutional membership. The network PI/Co-PI is primarily responsible for any and all activities related to Alliance throughout the member network. Each institution within the member network must have a Principal Investigator (PI) who is responsible for the conduct of trials at the specific site. All PIs are required to follow the Alliance Policies and Procedures, including maintenance of current roster data and other membership information.
Each member network will have one Lead CRP (clinical research professional) who will be rostered at each site within the network. One Secondary Lead CRP should be assigned for each site but does not need to be the same person across all sites within the network.
All persons with lead roles (PI, Co-PI, Lead and Secondary Lead CRPs) are required to receive all Alliance broadcast email messages and the Alliance Broadcast flag must be set to "yes".

Questions?
For more information about Alliance membership, contact Membership@AllianceNCTN.org.