E-Newsletter - March 2019
Message from the Group Statistician

Alliance statistics and Data Center:
INCREDIBLE YEAR IN REVIEW, CUTTING-EDGE YEAR AHEAD
What a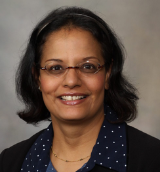 n incredible year it has been of continued progress and accomplishments with the Alliance Statistics and Data Management Program, and the Alliance as a whole, including the submission and favorable review of our competing renewal applications for treatment and the NCI Community Oncology Research Program (NCORP).
Alliance Statistics and Data Center (SDC) members continue to be on the cutting edge of statistical and methodological research, publishing extensively on novel statistical and bioinformatics methods, analyses and software, and providing statistical support and leadership on publications that leverage individual patient data from multiple Alliance studies. In 2018, the SDC provided statistical leadership and collaboration for two trials (A041202, and A091105)* with registration intent that were published in the New England Journal of Medicine. We are the SDC for the National Biorepository to Advance Studies of Immune-Related Adverse Events to manage a centralized tissue and data repository for patients enrolled in clinical trials from across all National Clinical Trials Network (NCTN) groups who experience immune-related adverse events (irAEs). And finally, we continue to develop expertise in the area of cancer care delivery research, with faculty from NCORP dedicated to this research endeavor.
Fulfilling Commitment to NCTN Data Archive
The Alliance is committed to sharing data with individuals or organizations whose goals fall within the NCTN mission. As part of this commitment, and per NCTN Data Archive guidelines, the Alliance has identified 34 trials that are required to be uploaded to the NCTN archive (21 primary endpoint manuscripts and 13 secondary endpoint manuscripts/meta-analyses) and has submitted 19 of these to the archive to date. The Alliance SDC partnered on the NCTN Navigator initiative (a clinical trials specimen resource for investigators who conduct exploratory correlative analysis and seek specimens to validate their hypotheses), and contributed 30 trials, 17, 228 patients and 149,388 biospecimens to the inventory. SDC's primary contributions provided assessments of the clinical data availability, available samples, number with proper consent, number per treatment arm, and estimations of budgets. To date, we have received seven requests through this initiative for sharing of specimens and clinical data from trials submitted to the NCTN Navigator.
Data Capture Systems Project: On Schedule
The consolidation of our data capture systems is still underway. The legacy CALGB systems have been fully retired and all legacy CALGB studies with ongoing data collection have been migrated to Rave. The transition of the legacy electronic data capture systems for ACOSOG and NCCTG is underway and should be completed by 2020. This consolidation will provide the Alliance SDC considerable staffing flexibility, efficiencies in data management, IT, and statistical operations, in addition to needed platforms for statistical innovation and discovery. In 2018, the Alliance SDC contributed to several national NCTN systems initiatives: supporting the ePRO implementation, Source Data Verification, expansion of the Rave global library, implementing the Data Quality Portal and Central Monitoring Portal, and developing iRECIST templates. In working with the Alliance Translational Research Program (TRP) leadership, the Alliance Computational Genomics & Bioinformatics (CGB) unit is piloting a solution for storing and sharing bioinformatics data, with secure data transmission, complete audit trail for all transfer activity, and simultaneous user access.
Welcome Ne

w Staff
Meet our new IS Director, Megan Williams! Megan has worked on architectural data models and optimization, and leading development teams working on the anesthesia medical record, and most recently, genomics and bioinformatics initiatives within Mayo Clinic's research and clinical environments, including genomic sequencing, workbenches and genomic data warehousing. Prior to Mayo Clinic, Megan spent 10 years as a software engineer at IBM architecting and designing web-based system management software. She holds a Master of Science degree in Computer Engineering and a Bachelor degree in Management Information Systems from Iowa State University.
The Alliance SDC remains dedicated and committed to cutting edge science and innovative designs and analysis, and look forward to working with all of you on the exciting initiatives the years ahead will bring.

On behalf of the Alliance SDC leadership team:
Associate Group Statistician: Ann Oberg, PhD
Operations Administrator: Cari Cummins
Directors of Statistics: Xiaofei Wang, PhD, and Qian Shi, PhD
Director of Computational Genomics and Bioinformatics: Ann Oberg, PhD
Director of Data Management: Jenny Darcy
Director of Information Systems: Megan Williams, MS
Director of Clinical Trials Systems Support Services: Andrea Jacobsen, MBA
Director of Statistical Systems and Integrations: Shauna Hillman, MS

* New England Journal of Medicine publications
Alliance A041202: A randomized phase III study of bendamustine plus rituximab versus ibrutinib plus rituximab versus ibrutinib alone in untreated older patients. https://www.nejm.org/doi/full/10.1056/NEJMoa1812836
Alliance A091105: A phase III, double blind, randomized, placebo-controlled trial of sorafenib in desmoid tumors or aggressive fibromatosis (DT/DF)
https://www.nejm.org/doi/10.1056/NEJMoa1805052




Sumithra J. Mandrekar
Alliance Group Statistician
For other articles in this issue of the Alliance E-News newsletter, see below.