E-Newsletter - July 2019
Alliance PI Perspectives

Alliance health outcomes committee:
RATING your Quality of Life and other important
endpoints worth measuring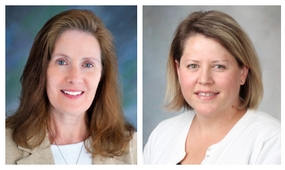 By Michelle Naughton, PhD, MPH
Professor of Internal Medicine
The Ohio State University Comprehensive Cancer Center
Arthur G. James Cancer Hospital and Richard J. Solove Research Institute
Co-Chair, Alliance Health Outcomes Committee

Amylou Dueck, PhD, MS
Associate Professor of Biostatistics
Mayo Clinic
Co-Chair, Alliance Health Outcomes Committee
Jacqueline M. Lafky, MS
Program Manager, Alliance Cancer Control Program

The Alliance Health Outcomes Committee (HOC) was formed with the goal of the judicious collection of high-quality data for the improvement of clinical care and quality of life (QOL) for patients throughout the continuum of cancer care and survivorship. Since the early 2000s, patient-reported outcomes (PROs) have achieved greater prominence in clinical cancer care and research to better characterize the patient experience. PROs include a wide range of measures, including physical and emotional symptoms, QOL, treatment adverse effects and adherence, social and behavioral factors, and financial toxicity. PROs are unique in that these responses are obtained solely from patients, unfiltered by their clinicians, families or other members of their health care teams. Members of the HOC work jointly with clinical investigators to assess treatment impacts on patients, as well as to conduct primary PRO research.
Examples of the work of the HOC in Alliance clinical trials include the N0574 (Alliance) trial (PI Paul Brown, Mayo Clinic), which tested stereotactic radiosurgery (SRS) with or without whole-brain radiation therapy in patients with one to three cerebral metastases. Health outcomes were the primary and key secondary outcomes in this trial--neurocognitive progression and patient-reported QOL, respectively. The study results demonstrated significantly less neurocognitive progression and QOL decline at three months in patients randomized to SRS alone, which ultimately led to updated National Comprehensive Cancer Network (NCCN) treatment guidelines citing these results. Health outcomes components are also embedded in several ongoing Alliance trials. For example, in the Alliance A011401 Breast Cancer Weight Loss (BWEL) phase III randomized trial (PI Jennifer Ligibel, Dana-Farber Cancer Institute) evaluating the impact of a telephone-based weight loss intervention versus a control condition in overweight and obese women with breast cancer, a subset of patients wear Actigraph accelerometers and complete food diaries and questionnaires measuring activity, functioning, and symptoms. This HOC sub-study will enrich our understanding of the impacts of the intervention beyond the primary endpoint of invasive disease-free survival.
The HOC has also been active in conducting its own primary PRO and health outcomes research. The HOC is developing and using measures for a range of cancer types, and across patients with cultural, language and/or educational differences – a key aspect in reducing health disparities in cancer care. The HOC also develops and tests data collection methods that lend themselves to greater flexibility in technological applications (e.g., electronic devices, wearables, automated telephone systems), as well as pen-and-paper and interviewer-administered methodologies. Expanding and testing the use of electronic PROs (ePROs) and devices for data collection, such as wearables and other digital health technologies, offer exciting opportunities in innovative data collection and symptom tracking in real-time. The HOC hosted a Digital Health Symposium during the 2018 Alliance Spring Group Meeting with speakers from Alliance, the SWOG Cancer Research Network, and NRG Oncology to facilitate cross-group collaboration. Alliance HOC and Statistics and Data Center members have piloted ePROs using Medidata Rave's Patient Cloud app and subsequently collaborated with NCI and other cooperative groups to implement ePROs more broadly using the same system.
Ongoing national and international efforts to develop or identify the most psychometrically sound PRO items and scales or how best to analyze PRO or health outcomes data are providing greater precision in obtaining information necessary for cancer patient care and QOL. Alliance investigators have been at the forefront of these efforts. These innovations in measurement, data collection, and statistical analysis lead to less patient and clinic burden, fewer items needed for outcomes assessments, and easier methods to track patients' symptoms over time. Examples include HOC members' contributions to improving the longitudinal presentation of adverse event data through the Toxicity over Time (ToxT) approach and to the Setting International Standards in Analyzing Patient-Reported Outcomes and Quality of Life Endpoints Data (SISAQOL) Consortium.
HOC researchers have also contributed to the development of the NCI Patient-Reported Outcomes version of the Common Terminology Criteria for Adverse Events (PRO-CTCAE). Within the N1048 PROSPECT (Alliance) trial (PI Deborah Schrag, Dana-Farber Cancer Institute), all patients reported their side effects using PRO-CTCAE online or by an automated telephone system. To investigate how best to integrate PRO-CTCAE into standard clinical adverse event reporting, sites were randomized to standard adverse event reporting (where AEs were documented and reported per standard practice) or to a shared patient-clinician approach (where patients' PRO-CTCAE scores were systematically shared with the clinical team at each visit). This study completed accrual in December 2018 and data are maturing.
The HOC looks forward to continuing this collaborative work in these vital areas of research and clinical care.
For other articles in this issue of the Alliance E-News newsletter, see below.
Message From the Group Chair - Monica M. Bertagnolli, MD
PI Perspective: Alliance Health Outcomes Committee
Michelle Naughton, PhD and Amylou Dueck, PhD (Co-Chairs)
Jackie Lafky, MS (Program Manager)
Changing the Guard: Director and PI, Alliance Central Protocol Operations Program
Gin F. Fleming, MD and Olwen Hahn, MD
Spotlight on Alliance Trials
Alliance A091802 - Cutaneous squamous cell carcinoma
Alliance A041701 -

Chronic myeloid leukemia


Alliance A031704 - Advanced renal cell cancer
Alliance A031702 - Rare genitourinary tumors
Adding Value to the Alliance Clinical Trial Process
Alliance Patient Advocate Committee
Announcements
-- Alliance Joins with ASCO, CancerLinQ and The MITRE Corporation to Publish Initial Set of Common Cancer Data Standards and Specifications Comprising mCODE (VIDEO))
-- Recap: Alliance and Alliance Foundation Trials at 2019 ASCO
-- Renewed NCI Investigational Agent Accountability Record Forms (DARFs)
-- Call for Nominations + Applications: 2019/2020 Alliance Awards + Honors
-- Alliance Appoints New Committee Chairs
Alliance in the News
-- GNS Healthcare Chosen to Present Discovery of New Clinical Predictors of Overall Survival in Metastatic Colorectal Cancer at ESMO 2019 in Collaboration with the Alliance for Clinical Trials in Oncology
-- mCODE Improves EHR Data Standardization for Cancer Research
-- First Patient Dosed in Phase III Study of E-Selectin Antagonist Uproleselan in AML (Alliance A041701)--ASCO 2019: CALGB 90601 (Alliance): Randomized, Double-blind, Placebo-controlled Phase III Trial Comparing Gemcitabine and Cisplatin with Bevacizumab or Placebo in Patients with Metastatic Urothelial Carcinoma
--'Magic Mouthwash' Little Help for Radiation-Induced Mucositis (Alliance A221304)
-- Magic mouthwash effective treatment for mouth sore pain caused by radiation therapy (Alliance A221304)
-- Mouthwashes Show Promise in Reducing Chemo-Related Oral Mucositis Pain (Alliance A221304)
-- Giving Drugs before Surgery Lowers the Risk of Prostate Cancer Returning (CALGB 90203)
-- Study: Identifying colorectal cancer subtypes could improve treatment (CALGB/SWOG 80405)
-- The Fight to Save the Bladder Turns to Genomics (Alliance A031701)