E-Newsletter - October 2016
NCI Selects allaince researcher to co-chair cancer care delivery research coordinating committee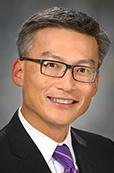 An Alliance researcher has been nominated and selected to serve as Co-Chair for the National Cancer Institute's Cancer Care Delivery Research (CCDR) Coordinating Committee. George J. Chang, MD, MS, FACS, FASCRS, will join two others (Ruth Carlos, MD, and Matthew Hudson, MD) in the co-chair positions. Dr. Chang is a Professor in the Department of Surgical Oncology-Division of Surgery; Chief in the Section of Colon and Rectal Surgery; Director of Clinical Operations for Minimally Invasive and New Technologies in the Oncologic Surgery Program; and Associate Medical Director of the Colorectal Center at the University of Texas MD Anderson Cancer Center. He is also Chair of the Alliance Cancer Care Delivery Research Committee, which is part of the Alliance Cancer Control Program.
The CCDR Coordinating Committee promotes and coordinates cross-NCORP scientific collaboration, develops operational procedures for the development, review and implementation of CCDR within NCORP, standardizes various aspects of CCDR, including data definition, collection tools and procedures and audit requirements, and determines data infrastructure to support CCDR.


For other articles in the October issue of the Alliance E-News newsletter, see below.